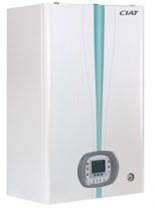 Images and Videos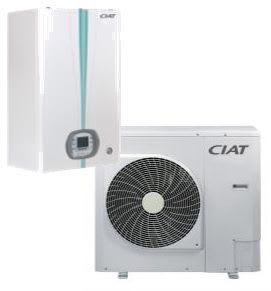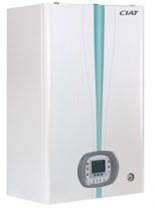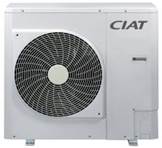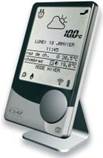 Description
Split air/water heat pump
DC Inverter technology
Integrates electric back up, buffering capacity, expansion vessel
Crankcase heater as standard,
Self-adjusting functions
R410A refrigerant
Remote control terminal with quick access to main functions
Complete installation and quick start up thanks to the split configuration and pre-configured water laws
DHW option for dual service operation
Cooling mode available for all models
Range:
6 models available
Range of use:
Heating capacity : 5 to 15 kW
Cooling capacity : 13 to 16 kW
Use:
Split air/water heat pump with Inverter technology for heating individual housing or small service sector premises. Yuna II can be installed in new housing connected to one or two networks of low or medium temperature emitters (underfloor heating and cooling systems, fan coil type terminal units) and supply a domestic hot water heater (option).
Wide operating range in both heating and cooling mode offers high performance in a wide temperature range.
DC inverter twin-rotary compressors with Pulse Amplitude Modulation (PAM) and Pulse Width Modulation (PWM) provide enhanced reliability, low energy consumption and smooth vibration-free operation under all operating conditions.
Variable-speed fans with an innovative patented fan blade shape ensure improved air distribution at exceptionally low noise levels.
Pre-set or customised selection of the appropriate climate curve for stable output capacity to match the heat load.
Output to link and integrate the unit with the existing heat  sources offers a dual-energy approach, increased savings and optimum comfort in all weather conditions.
Able to control two independent comfort zones with a two‑zone kit added to the main comfort module.
Leaving water temperature up to 60 °C for radiator and domestic hot water applications, making hot water readily available.
Latest News
CIAT Launches its Newest Range…

MONTILLA, Spain, 17 February, 2021 — VectiosPower is a new generation of rooftop air conditioning packaged units, designed to offer high levels of indoor air quality and full efficiency as well as reduce the total...

Read Full Story
CIAT Products
CIAT designs, manufactures and markets solutions for the residential, tertiary, healthcare and sectors.
Top