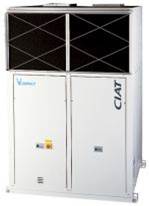 Images and Videos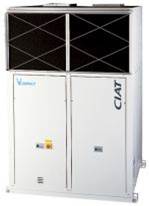 Description
The VCompact NE heat pumps and cooling unit are compacts air to air units, monobloc of vertical compact construction, designed to be installed indoors, safe from external damages, with access registers to fans, cooling circuit and electrical panel by means of easily removable
panels. These units are suitable for commercial and industrial applications where the availability of space allows its installation. They offer the advantage of its vertical construction, and options which include elements of air renovation in only one unit. All of the units are tested and checked in factory.
Range:
Available in 16 models and 2 cooling-only or reversible versions, several blowing positions.
Range of Use:
Heating capacity: 12 to 75 kW
Cooling capacity: 12 to 73 kW
Air flow rates: 2,500 to 14,000 m³/h
Use:
The self-contained packaged air conditioner heats and cools businesses and industrial facilities. Designed for indoor installation. Ductable inside and out.
Slim vertical unit
Galvanised steel casing, polyester paint, free-standing frame
Centrifugal fan-motor assemblies
R407C refrigerant, one or two circuits, one or two piston or scroll compressors
Washable filter
Condensate drain pan with corrosion-resistant coating
GESCLIMA or GESCLIMA + control
Auxiliary electric heater or hot water
Air flow control
Reinforced sound insulation
Filter clogging detection
Supply fan with soft start function (application: fabric ductwork)
Electrical cabinet
Electrical equipment protected by standard circuit breakers.
Return air temperature sensor kit (AVANT & AVANT PLUS)
Carel RS485/Modbus protocol serial communication board
Carel's Pl@ntvisor central control system
RS485/RS232 input
Maintenance control display
Summer: condensing pressure controlled by a damper box on the outdoor air circuit.
Anti-vibration mounts.
Pre-coated aluminium fins on indoor and outdoor coils
Indoor and outdoor coils protected by Blygold coating
Latest News
CIAT Launches its Newest Range…

MONTILLA, Spain, 17 February, 2021 — VectiosPower is a new generation of rooftop air conditioning packaged units, designed to offer high levels of indoor air quality and full efficiency as well as reduce the total...

Read Full Story
CIAT Products
CIAT designs, manufactures and markets solutions for the residential, tertiary, healthcare and sectors.
Top