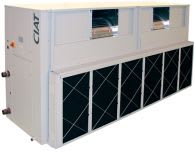 Images and Videos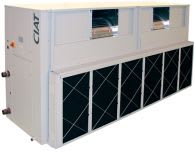 Description
In the NEPTUS range of water-to-air heat pumps, water is the fluid that enables heat to be exchanged with the outdoor circuit. The unit supplies or acquires energy from the water contained in a water loop or exchanges energy with the ground (geothermal energy source).
Range:
9 models available:
NEPTUS RXP: cooling only version
NEPTUS IXP: reversible heat pump version
Range of Use:
Cooling Capacity from 24 to 92 kW.
Heating Capacity from 28 to 110 kW.
Air flow rates from 4.700 to 17.000 m3/h
Use:
Compact WATER-TO-AIR units designed for heating and air conditioning new and renovated commercial buildings with water loop systems. They can be used for buildings or small commercial areas that are connected to ground loop installations (geothermal installation).
The unit has been designed to be installed either in-store or in a technical room.
R410A refrigerant
1 refrigerant circuit
1 or 2 SCROLL compressors
High efficiency air exchanger – fins and coil type
High performance plate heat exchanger
Centrifugal fan driven by pulleys and belts in outdoor and indoor units.
Mixing box for new and return air, free cooling management incorporated: High quality indoor air filtration.
Efficient AVANT family controller:
control perfectly suited to your needs with the option for communication with a BMS via an RS 485 output (several communication protocols)
PlantVisor PRO supervision software
Latest News
CIAT Launches #CIAT4life in Europe…

CULOZ, France, May 6th 2021 – Now more than ever, indoor air quality (IAQ) – and how it influences personal health – is critically important. Indoor environments should be controlled, safe, comfortable, and reliable. Today,...

Read Full Story
CIAT Products
CIAT designs, manufactures and markets solutions for the residential, tertiary, healthcare and sectors.
Top