Images and Videos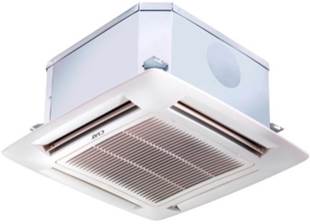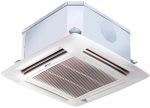 Description
Perfect integration, the cassettes adapt to aesthetic, financial and material constraints.
Range:
6 models available
2 models, 600×600 and 900×900
2 pipe, 2 pipe-2 wires and 4 pipe applications
4 way directional diffusers
Low pressure loss filter
Range of Use:
Heating capacity : 1.3 to 14.6 kW
Cooling capacity : 1.3 to 11.6 kW
Use:
Comfort unit to be integrated into a suspended ceiling, active on water loop
Designed for use in offices, retail facilities, meeting rooms, hotel lobbies, exhibition rooms, etc.
Easy to install, simple and economical.
Fits perfectly within the suspended ceiling tile dimensions.
White color.
The manual deflectors are adjustable (2 positions) allowing homogeneous air distribution throughout the room.
Galvanized sheet metal.
Copper tubes, aluminum fins.
Air vent and partial drain.
Nominal pressure: 14bar.
Minimum water inlet temperature : 5 °C.
Maximum water outlet temperature : 70 °C in 2 pipe and
80 °C in 4 pipes.
Latest News
CIAT Launches #CIAT4life in Europe…

CULOZ, France, May 6th 2021 – Now more than ever, indoor air quality (IAQ) – and how it influences personal health – is critically important. Indoor environments should be controlled, safe, comfortable, and reliable. Today,...

Read Full Story
CIAT Products
CIAT designs, manufactures and markets solutions for the residential, tertiary, healthcare and sectors.
Top