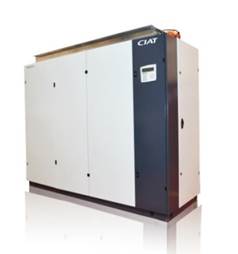 Images and Videos

Description:
Excellent compromise between power supplied and footprint. Larger transfer area for increased free cooling. No need for a dedicated mechanical room.
Range:
5 chilled water (CW) models and 4 direct expansion (DXA) models
UNDER: Return from above and supply into the raised floor.
OVER: Return from front and supply from above.
CW : Vertical chilled-water air handling unit.
DXA : Vertical self-contained unit with air condensation unit ( R410A fluid).
Range of Use:
Cooling capacity: 10 to 116 Kw
Air flow rates: 3,000 to 27,500 m³/h
Use:
Vertical self-contained air conditioner specially designed for spaces with high heat loads or sensitive rooms (data centres, computer rooms, switch rooms, etc.).
Magister  boasts a sleek design that blends seamlessly with any space. Its built-in technologies – self-regulating control that adjusts to room loads and electronically commutated motor – keep its energy consumption down.
The fan* also has a Modbus card which allows faults and settings such as the actual power input, current, rotation speed, etc. to be transmitted.
*CW only
Packaged unit
Double-skin panels with M0/A1 insulation, galvanised base and aluminium frame
G4 or F7 filter
Cooling provided by a chilled-water coil fitted with two-way or three-way valve
Plug fan coupled with an EC motor with Modbus card integrated ( CW only)
Heating provided by hot-water coil or electric heater
Steam humidifier
Complete electrical cabinet, CIAT µAIR CONNECT 2 control
A wide range of options
Free cooling module (option) takes in fresh air from outside
Outdoor unit (DXA model):
CONDENCIAT CD air condensation unit
Power supply: Three-phase 400V / 50 Hz + T.
SCROLL heat compressor
HP safety pressure switch2-speed IP54 motor
Coil protection grille
Easy, quick installation
Easy maintenance, easy-remove filters, all components accessible from the front
Simple to use, low power consumption
Twin-wall construction, filter check, increased solidity
High-efficiency heat exchange coil
Controlled by a networked PLC system
Uses an environmentally friendly, non-ozone-depleting refrigerant
Easy maintenance (no work inside the room)
No noise in the room
No loss caused by the compressor
Easy maintenance (no work inside the room)
Latest News
TCUK Now Stocking Chillers, Air…

LEATHERHEAD, UK, 23 Sept. 2020 – Toshiba Carrier UK Ltd (TCUK) is now stocking popular ranges of Carrier chillers and fan coil units (FCUs), plus CIAT air handling units (AHUs) and FCUs, for next-day delivery...

Read Full Story
CIAT Products
CIAT designs, manufactures and markets solutions for the residential, tertiary, healthcare and sectors.
Top