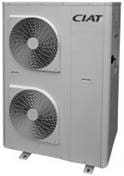 Images and Videos




Range:
Chilled water model (CW) – 7 sizes
Direct-expansion air-cooled model – 11 sizes
Up flow ('over') or Down flow ('under')
Use:
Precision air handling cabinet particularly suited to air treatment requirements (filtration, temperature and hygrometry control) in computer and telecommunications facilities and rooms for special use (electronics, metrology, sensitive storage, medical, controlled atmosphere rooms). Dual-wall construction. Fan controlled by a variable frequency drive to ensure flow/pressure balance on site. The unit is quickly and easily installed and particularly easy to use.
Packaged unit (CW) or split-system unit (DXA)
Double-skin panels lined with compressed glass wool, exterior with RAL 7035 painted finish
G4 filter as standard. F7 filter or G4+F7 combined filter optional.
Chilled-water coil fitted with two-way or three-way valve (CW)
Direct-expansion cooling coil, one or two refrigerant circuits, one or two scroll compressors, R410A refrigerant, with CL air-cooled condenser with condensing pressure controlled by the fan speed
One to three direct-drive centrifugal fans, variable frequency drive
Heating provided by hot-water coil or electric heater,
Steam humidifier (1 to 8 kg/h)
Complete electrical cabinet can be fitted with or without a CIAT µAIRCONNECT or Carel electronic controller.
Condensate pump optional
Continuously monitors the air flow and filter blockage level
Latest News
TCUK Now Stocking Chillers, Air…

LEATHERHEAD, UK, 23 Sept. 2020 – Toshiba Carrier UK Ltd (TCUK) is now stocking popular ranges of Carrier chillers and fan coil units (FCUs), plus CIAT air handling units (AHUs) and FCUs, for next-day delivery...

Read Full Story
CIAT Products
CIAT designs, manufactures and markets solutions for the residential, tertiary, healthcare and sectors.
Top