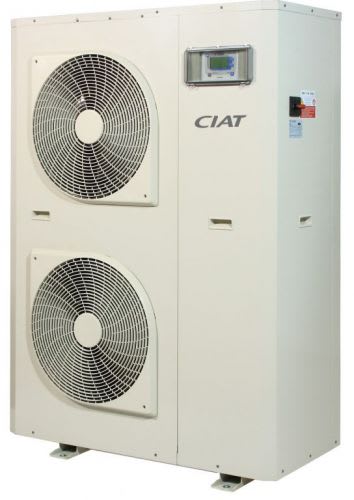 Images and Videos
Description
Integrated hydronic module
Ozone-friendly R410A refrigerant
Pro-Dialog+ control
Master/slave control of two units operating in parallel with operating time equalisation and automatic change-over in case of a unit fault.
A neutral color (RaL 7035) to facilitate the integration in residential area
Thermal insulation and frost protection down to -10°C
Eurovent Certification
Range:
5 models available in cooling only and 5 models reversible.
Range of use:
Cooling capacity : 17 to 40kW
Heating capacity : 17 to 40 kW
Use:
The EREBA ACCESS air-to-water heat pump / chiller is designed for heating and cooling applications in individual homes and small commercial applications.
When installed alone, EREBA ACCESS is compatible with low to medium temperature emitters (underfloor heating, fan coil units, water cassettes, radiators, mixed installations, etc.). EREBA ACCESS is also compatible with medium to high temperature emitters for boiler backup operation
Latest News
University of Leicester Opts for…

LEICESTER, England, 20 Nov. 2020 – The University of Leicester has chosen a high-efficiency CIAT air handling system for a major development of its award-winning Percy Gee Building, at the heart of its campus. CIAT...

Read Full Story
CIAT Products
CIAT designs, manufactures and markets solutions for the residential, tertiary, healthcare and sectors.
Top