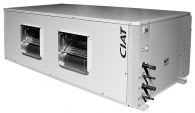 Images and Videos
Range
CZ range are direct expansion indoor units with horizontal construction for duct installation.
Operating range:
Cooling capacity from 20 to 135 kW
Heating capacity from 20 to 145 kW
Use:
Indoor units with horizontal construction designed for installation indoors, connected to duct network.
They are equipped with centrifugal fan (EC plug-fan also available as option in models 90 to 360), and expansion valve.
Two versions available:
• RCZ series: non reversible units.
• ICZ series: reversible units
Possibilty of customizing the unit with a wide portfolio of options.
All of the units are tested in the factory.
The range is designed for R-410A refrigerant and for on-site installation in combination with a condensing unit of identical capacity.
Description:
Casing made of galvanised steel metal with polyester paint
Centrifugal fan(s) coupling by pulleys and belts transmission
Thermostatic expansion valve(s) (check valve in ICZ series)
Option Service valves kit with refrigerant pre-charge
Supply EC plug-fans for high seasonal efficiency and low noise level operation
Free-cooling available with different configurations of fresh and extraction air
Reduced height for false ceiling installation
Auxiliary electrical panel included
Smoke detector possible as an option
Different additional heating options : hot water coils and electrical heaters
Filtration G4 or F6+ G4 as an option
Droplet eliminator as an option
Softstarter as an option for textile ducts applications
Refrigerant filter detector as an option
Completely adaptable /configurable
Reduced sound level
Available duct pressure up to 400 Pa
Reduced weight for false ceiling installation
Two filtration options
Security options available : smoke detector and refrigerant leak detector
Low energy consumption due to EC fan motor technology
Easy access to the stainless steel drain pan for cleaning
Easy filter maintenance
Latest News
CIAT Launches its Newest Range…

MONTILLA, Spain, 17 February, 2021 — VectiosPower is a new generation of rooftop air conditioning packaged units, designed to offer high levels of indoor air quality and full efficiency as well as reduce the total...

Read Full Story
CIAT Products
CIAT designs, manufactures and markets solutions for the residential, tertiary, healthcare and sectors.
Top