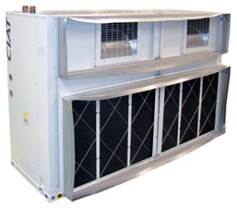 Images and Videos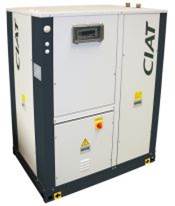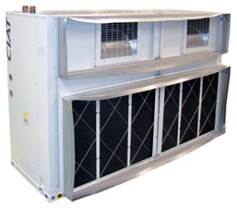 Description:
CIATCooler has a complete hydraulic version with or without buffer tank, with a large choice of pumps, covering most hydraulic systems. We select the very best hydraulic equipment and fit and test it in the factory, which limits the risks during installation and facilitates assembly on site. The tank can be built into the unit (up to model 360 STD or 280 HEE) or provided in a separate casing, which facilitates transport and installation in the room.
Range:
17 models available in STANDARD version and 15 models available in the HEE version:
LP: Without hydraulic system
LPC: With hydraulic system, with or without buffer tank
Range of Use:
Cooling capacity from 18 to 194 kW
Use:
Medium-capacity air-cooled chiller for heating and cooling of collective housing facilities, tertiary and industrial buildings and healthcare facilities. May be connected to emitters such as underfloor heating and cooling systems, comfort units (such as fan coil units and water cassettes) or air handling units.
It is designed for indoor installation and has a wide range of available pressure for connecting the condenser's air ducts
R-410A refrigerant
Compact, space-efficient unit
Fully encased in a housing constructed of coated metal panels that can be detached for indoor installation
One or two refrigerant circuit(s)
One to four new-generation, high-efficiency scroll compressors
Water-cooled brazed-plate heat exchanger
Centrifugal fan(s) or PLUG FAN (HEE version) with 5 to 350 Pa available pressure
2 directions for supply available
VERTICAL on all the models (STD and HEE)
HORIZONTAL up to model 600 STD or 360 HEE
Two air flow directions available up to model 600, horizontal flow only from model 640
User-friendly CONNECT2 microprocessor-based controller with many self-regulating functions available on all the range
Communication with BMS via an RS-485 interface (Modbus / Jbus and Ethernet as standard – LON as option
Latest News
CIAT Launches its Newest Range…

MONTILLA, Spain, 17 February, 2021 — VectiosPower is a new generation of rooftop air conditioning packaged units, designed to offer high levels of indoor air quality and full efficiency as well as reduce the total...

Read Full Story
CIAT Products
CIAT designs, manufactures and markets solutions for the residential, tertiary, healthcare and sectors.
Top