Images and Videos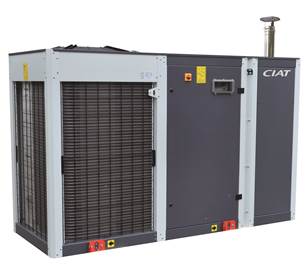 Description
The AQUACIAT2 HYBRID offers the combined advantages of a reversible air-to-water heat
pump and a condensation gas boiler. A wide range of 45 to 85 kW models to meet all cooling and heating requirements in new or refurbished tertiary buildings.
Range:
8 models available
ILDC + MG: Reversible heating and cooling with hydraulic system, without tank with an integrated condensation gas boiler
ILDH + MG: Reversible heating and cooling with complete hydraulic system and tank with an integrated condensation gas boiler
Range of Use:
Cooling capacity: 45 to 80 kW
Heating capacity: 50 to 85 kW
Use
Medium-capacity air / water hybrid heat pump for heating and cooling of residential buildings, businesses, industrial facilities and healthcare facilities. May be connected to emitters such as underfloor heating and cooling systems, terminal units (such as fan coil units and water cassettes) or air handling units. Designed as standard for outdoor installation without any special weather protection.
The range has been optimised to use ozone-friendly HFC R410A refrigerant. The use of this refrigerant guarantees compliance with the most demanding requirements for environmental protection and increased seasonal energy efficiency (ESEER).
Condensation boiler
R-410A refrigerant
Compact, space-efficient unit
Packaged unit fully encased in a housing constructed of coated metal panels that can be detached for outdoor installation
Frame made from RAL 7024 and RAL 7035 painted panels
One refrigerant circuit
Two new-generation, high-efficiency scroll compressors
Placed on anti-vibration mounts
Water-cooled brazed-plate heat exchanger
One propeller fan
User-friendly CONNECT 2 microprocessor-based controller with many self-regulating functions
Communication with BMS via an RS-485 interface (Modbus/Jbus and Ethernet as standard – LON as option)
Latest News
CIAT Launches its Newest Range…

MONTILLA, Spain, 17 February, 2021 — VectiosPower is a new generation of rooftop air conditioning packaged units, designed to offer high levels of indoor air quality and full efficiency as well as reduce the total...

Read Full Story
CIAT Products
CIAT designs, manufactures and markets solutions for the residential, tertiary, healthcare and sectors.
Top